Investment Professionals value their network. One of the challenges deal makers face is figuring out which of their connections could be relevant in the context of an early stage active deal or for longer-term proprietary opportunities. During the normal activities of relationship-building, a banker or referral source (such as a lawyer) can provide names of people and companies that are rarely tagged into a central system, making it difficult to take advantage of that linkage when needed.
More simply put, since your Investment Professionals do not link the relevant contacts from these calls or meetings, you aren't able to quickly connect the dots and gain a competitive advantage. This may be due to your existing CRM system being too complicated, which is demotivating.
The solution is obvious.
Navatar makes it a no-brainer for deal makers by simplifying and replicating the exact day-to-day workflows.
Below is a classic example in the context of a meeting and what happens after:
You meet a banker concerning a live deal and apart from discussing the deal, decides to pitch you an interesting tech company that may seek an exit in the next 12 months. Typically, you would go back to the office and write up notes in Outlook and send them to other team members as an update. Navatar makes it very easy to replicate that workflow which seamlessly and intelligently distributes the meeting notes to the banker, the live deal, and CEO of a tech company.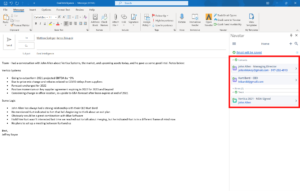 Interestingly, as we tag the tech company CEO (Kurt Bard), we notice that he already exists in Navatar. When we run a quick search in Navatar, we find that one of our other Investment Professionals had a meeting with Kurt 5 years ago and she saved her meeting notes in Navatar. You can see from the meeting notes that the company was looking for VC funding at the time, so qualified out, but we retain that valuable institutional memory. We also see that Kurt was introduced to us by a lawyer, Erin. So, now you can leverage your network to circle the opportunity and potentially gain a competitive advantage.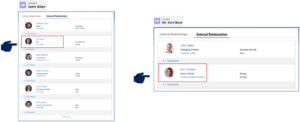 This was just a simple example of how a deal maker can easily log this information after a meeting. There are plenty of other scenarios in day-to-day interactions with your network, where Navatar makes it simple to link your connections to each activity.
Over time, Investment Professionals in the firm can draw on this institutional memory from past meetings and calls to identify contacts and continue to connect the dots between your proprietary network, to maximize relationships and get closer to opportunities.