Investment bankers have been busy with meetings in this hot M&A market ($2.5 trillion of deals in the first half of the year alone). Most of the meetings uncover valuable information related to potential opportunities and buyers – however, a lot of this data, which can be useful in generating or closing deals, remains buried in emails. It never makes it into their CRM system where it can be easily accessed whenever it is needed most.
This is because the often-redundant work of inputting this information into a CRM is simply not a priority for bankers. Without that data, it is hard to build an institutional memory, which eventually results in the CRM system being removed from the day-to-day business development and mandate execution work.
The answer to this problem is quite simple. Your bankers need an easy and automated way to capture all of this information directly from their emails, without ever having to leave Outlook.
With Navatar, they can.
The information can vary depending on the type of meeting and who they are meeting with. A lawyer or accountant may provide a referral that can lead to potential business. A company executive may provide information about their own fundraising plans. A private equity investor may provide requirements for add-ons they may be seeking for a portfolio company. A strategic buyer may provide feedback or indications of interest on deals they may be reviewing.
After most of these meetings, bankers usually enter the relevant information in follow-up emails they send internally/externally (or receive follow-up emails from the other parties). Navatar makes it easy to log this information into CRM directly from Outlook and tag the relevant external contacts, companies, and deals. If the contacts or companies don't already exist in Navatar, they can be auto-populated from the details in the email.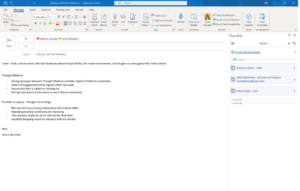 But what about the ongoing meetings and emails with the same people? Navatar makes it easy to modify information, change deal stages, add more contacts, sync calendar meetings, and more all from the Outlook window you are already operating in.